Geoengineering Affects You, Your Environment, and Your Loved Ones
There are several live presentations on the subject of climate engineering available on the windows below. If you are new to this subject, the red window, "Climate Engineering, A Clear And Present Danger" is a recommended starting point for an overall summary presentation.
Click To Open Each Presentation / Video
Geoengineering: Waging Weather Warfare On World Populations
Documentary, Hacking The Planet: The Climate Engineering Reality
Engineering Earth, Exposing The Global Climate Modification Assault, Live Presentation
Climate Engineering Cataclysm: A Live Presentation By Dane Wigington
Major Northern California Event Exposes Global Climate Engineering, Updated
Geoengineering Investigation Demanded by Numerous Experts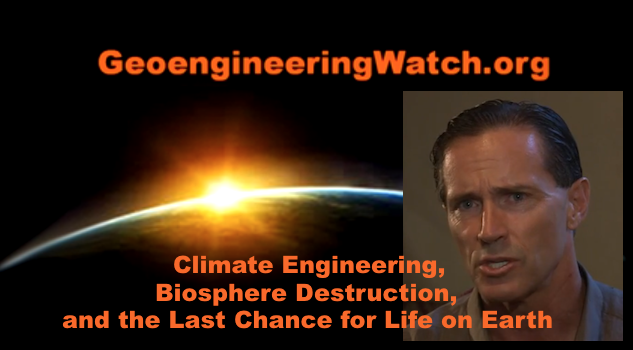 Want proof of the spraying of our skies?Watch the 90 second video below.

CLIMATE ENGINEERING WEATHER WARFARE, AND THE COLLAPSE OF CIVILIZATION

Planet Earth is under an all out weather warfare assault. In this video, Dane Wigington gives another presentation in Northern California on the harmful effects of Geoengineering, declaring that there is virtually NO NATURAL WEATHER due to the massive global climate engineering. The very essentials needed to sustain life on earth are being recklessly destroyed by these programs. This is not a topic that will begin to affect us in several years, but is now already causing massive animal and plant die off around the world, as well as human illness. read more
GEOENGINEERING Is Truly THE MOST IMPORTANT TOPIC OF OUR TIME!

Please take a moment to watch this presentation and familiarize yourself with this ongoing crime against all life on earth.
The BBC documentary linked below is an extremely important watch for any that wish to better understand the truth, and the dynamics of the all out assault on planet Earth by the climate engineers.


View the trailer for
the film LOOK UP! by
SKYDER ALERT
, narrated by William Baldwin. Get the full movie at
SkyderAlert.com
The map below is the most recent GISS surface analysis from NASA. This map is the absolute bottom line of reality regarding the true state of our warming planet. The extremely radical range of temperature variances is tell tale of the immense and ongoing geoengineering assault on planet earth.
GLOBAL TEMPERATURE MAP DEVIATION FROM NORMAL TEMPERATURES.
Note where the geoengineering focus is most centered, which are the cool regions in Canada and the eastern USA, and a region of Antarctica where the research vessel is stuck in the ice. Was this incident truly just accidental? Or perhaps a well orchestrated media maneuver? Impossible to say, but the press sure made the most of it and many took the bait. The well orchestrated media machine and loads of manipulated data have convinced a great many that our planet is cooling overall, this could not be further from the truth.
_______________________________________
View the Government Documents
_______________________________________
What The Council on Foreign Relations has publicly posted on the topic of Geoengineering:
_______________________________________