Man On The Street – Aug 20, 2013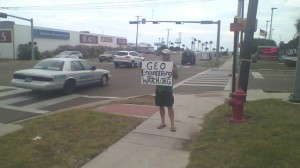 4 days ago I was doing my usual beat on the street and it was a great day!
I found an area where our city had to do some work on a red light signal which backed up traffic big time.
I was able to pass out many Geo Watch flyers and awakened a lot of people because of this.
At one point I had a nice couple wanting a flyer and the gentleman asked me at the same time "Does this have anything to do with HAARP?"
I replied, "Absolutely, it's another piece of the giant puzzle."
Then there were 2 air conditioning guys in a van that wanted a flyer and one of them asked,"What is this about?" It just so happened to be a ChemSky day so I pointed at the sky and said to them, do you see that milky white stuff that looks like clouds?
One of them said "yeah".
I then told him, "Those are not natural clouds. Those are deadly made made chemicals being sprayed by jets."
That's when the other guy slapped his co-worker on the shoulder and said
"See, I told You Man!"
So I gave him a big thumbs up and told them "God Bless, my friends!"
I am having many great encounters with wonderful results every time!
If you try this you will realize that the positives always out weigh the negatives. That's a fact.
Stay Safe and March on Geo Fighters!
Man On The Street.
Jason,