Alaskan Restaurant Owner Shows Profound Dedication In The Fight To Stop Climate Engineering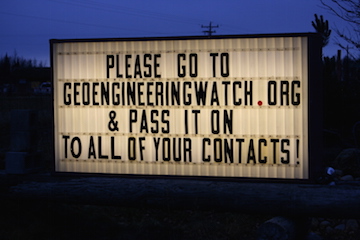 Dane Wigington
geoengineeringwatch.org
Steven Chamberlain of Nikiski, Alaska is an exceptional example of assertive and constructive activism in the battle to expose and halt global climate engineering. Before there can be any chance of stopping global geoengineering programs, a critical mass of awareness must be reached with the population at large. Steven owns "Charlies Pizza" in Nikiski, his constant efforts to start "spot fires" of climate engineering awareness with his customers is effective and inspiring. When people wake up to the geoengineering nightmare, their first question is often "what can I do to help stop this". In the 14 minute video below, Steven covers the multitude of constructive actions he is implementing in this extremely important battle to expose and stop climate engineering.
I had the pleasure of meeting Steven when he took the time and trouble to travel all the way to Northern California in order to connect and network with other activists at the presentation of "Climate Engineering, A Clear And Present Danger" in November of 2014. My most sincere gratitude goes out to Steven Chamberlain and to every single activist that is giving their all to this critical fight regardless of the resistance many show to hearing this dire truth. We are in a fight for life, every day matters in this critical battle. Let's all continue to make our voices heard until the climate engineering insanity is brought to light and to a halt.
More pictures taken from the library of photos Steven has sent me is below.