Resources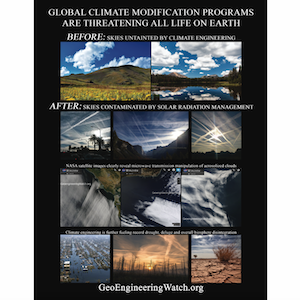 Geoengineeringwatch.org has made the decision to offer our color glossy 100lb paper informational flyers to the public. We have done this because we can print extremely large quantities and then pass the savings on to the public in order to get more critical informational materials into circulation. Flyers can be ordered here, or the flyer printing file (below) can be downloaded for FREE so that they can be printed locally.
100 Flyers, a 20 page full color booklet (that contains the most hard hitting and undeniable climate engineering facts and photos available) and our most recent DVD package is $29, TAX INCLUDED, with FREE SHIPPING AND HANDLING, continental USA ONLY (all international shipments have additional shipping fees). This informational package has been priced as close as possible to the cost of producing, handling, and shipping it. Every package also includes a complementary bumper sticker, our latest version is shown below.
There is only one goal, to help with the effort to sound the alarm on the critical climate engineering issue. Any remaining proceeds from the sales of this informational package will go 100% back into the ongoing effort to raise public awareness on the critical climate engineering issue. Due to our constant workload in the battle to expose and halt climate engineering, we will be mailing packages just twice a week. We apologize for the delay and thank you for your patience.
2-Sided Flyers & Business Cards
Click on any flyer/business card below to download high resolution PDF file (FREE)
Side 1

Side 2

Click either image below to download the PDF version of our new color flyer in Spanish.
| | |
| --- | --- |
| Side 1 | Side 2 |
Our flyers are printed on high quality color glossy paper with brilliant color printing to increase their impact.
| | |
| --- | --- |
| Side 1 | Side 2 |
Click either image above to download the PDF version of our color flyer in Spanish.
Business Card
| | |
| --- | --- |
| Business Card – Side 1 | Business Card – Side 2 |
Look Up Flyer
| | |
| --- | --- |
| Look Up – Side 1 | Look Up – Side 2 |
Bumper Sticker
1-Sided Flyers
Click on any flyer below to download high resolution PDF (or JPEG) file (FREE)

(The above image is a JPEG – click on the image to open it in a new window,
then Right-click that larger image and choose "Save Image As…")