Is Climate Engineering Real? Square Cloud Formations Are Undeniable Proof

Dane Wigington
geoengineeringwatch.org
The climate science and meteorological communities (along with mainstream media and countless other agencies) have long since completely sold out to the power structure. Countless individuals within these groups have committed themselves to what is nothing less than a total betrayal of populations around the globe (along with the entire web of life). The ongoing global climate engineering assault could not be more obvious or indisputable to anyone that does any objective investigation and has the courage to face reality. Yet, the so called "experts" continue to fortify the public denial of climate engineering by themselves adhering to the lie on the officially dictated blatant deception.
Radio frequency signals leave a very clear and visible signature, this signature is extremely recognizable on the image above. Radio frequency transmissions are utilized for manipulating weather systems, cloud formations, and jet stream patterns. The electrically conductive heavy metal nanoparticles (that are constantly being sprayed into our atmosphere by the the geoengineers) are manipulated with the global grid of radio frequency transmitters (which the weathermakers control).
Square cloud formations are not the only indication of the climate engineering insanity, voids in cloud canopies are also a telltale sign of the ongoing manipulation. Nature does not make 90 degree corners in weather systems.
The hazy wispy composition of many "clouds" seen in these satellite photos are also a result of heavy atmospheric aerosol saturation. Unfortunately the vast majority of the population currently cannot distinguish between natural clouds and aerosolized artificial "cloud" cover.
Squares within an existing canopy of aerosolized cloud cover are yet another profound signature of extreme atmospheric manipulation. These two photos (above and below) reveal extraordinary and completely unnatural variances of cloud canopy composition.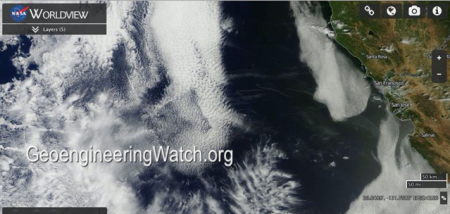 In the capture below, again, extremes of composition and geometry are shockingly clear.
90 degree notches taken out of existing aerosolized cloud canopies are increasingly being noted on radar images.
Photos like the one below have become commonplace in recent years as the climate engineers completely manipulate the flow of moisture entering from over the US West Coast.The ongoing engineered drought catastrophe in California is only one of countless horrific impacts form the geoengineering assault. Record forest die-offs and record forest fires are yet more downstream effects.
All of us completely depend on Earth's life support systems, these systems have been derailed and decimated for decades by the global power structure. Though many populations around the globe are already rapidly sinking into a daily fight for survival, the majority of citizens in heavily industrialized nations still have a choice (for the moment). So far, most have chosen apathy, denial, and total willful blindness. The masses must be awakened to the immense and immediate challenges we collectively face. Earth's life support systems are literally collapsing from countless forms of human activity. Climate engineering is the greatest assault on the biosphere ever launched by industrialized civilization. Exposing and halting the ongoing geoengineering insanity should be (must be) our top priority. Every single individual that is awake and aware of this most critical issue is needed in this all important battle. Help us to reach a critical mass of awareness with populations around the globe, please make your voice heard while we still have anything left to salvage of our once thriving planet Earth.
DW
May be freely reprinted, so long as the text is unaltered, all hyperlinks are left intact, and credit for the article is prominently given to geoengineeringwatch.org and the article's author with a hyperlink back to the original story.