Mainstream Media Host David Pakman's Coverage Of Geoengineering Reality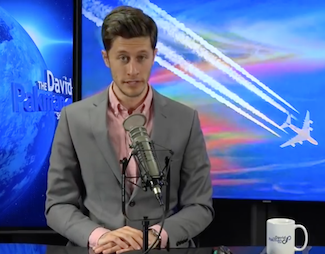 Dane Wigington
GeoengineeringWatch.org
In the Orwellian world we find ourselves in, there are some individuals who stand out as torch bearers for the power structure and the collective insanity. National media host David Pakman is a poster child among those who have made their living by pushing and propagating the "official narrative" for those in power. Pakman has just posted the video below stating that:
It is Thanksgiving week so we've got something extra special for you. For the Thanksgiving spirit, I don't know how Thanksgiving connects to "chemtrails"…
In this 16 minute debate Pakman interviews me while desperately trying to discredit the critical issue of climate engineering. He clearly never bothered to actually investigate geoengineering or the verifiable facts relating to it. Not surprisingly, Pakman repeatedly insisted on using the "chemtrails" term, this is yet another example of why utilizing the science terms is so important.
David Pakman is the epitome of power structure propaganda pushing so called "journalists". His aggressive participation in the criminal climate engineering cover-up makes him an accessory to the climate engineering crimes of planetary ecocide and potential omnicide. If you are not OK with Pakman's attempt to try and marginalize (and thus cover up) the critical climate engineering issue, let him know HERE.
Geoengineered skies. Photo credit: Rudewald Gumbs
Many activists inquire about how best to debate climate engineering deniers. Though I generally advise activists not to waste time on people who clearly don't want to investigate (let alone wake up), and I generally avoid such debates also. However, when there is an opportunity to have the debate aired on a very large national radio show, the effort is well worth the time. Here is another heated on-air geoengineering debate with a national radio show's expert denier (WHO NewsRadio 1040) recorded in the video below. When the station's own patrons began to call and express their support for the information being presented on the geoengineering reality (and the dangers of geoengineering), the station host brought the interview to an immediate end.
There are many media sources playing the same part as David Pakman and WHO radio, it is up to us to expose them for the power structure disinformation sources they are. This is best accomplished by forwarding credible and verifiable data. Credibility is key in the fight to expose and halt climate engineering, make your voice heard in this all important battle to sound the alarm.
DW