Did Geoengineering Just Kill Almost 200,000 Alpacas In Peru?

Dane Wigington
geoengineeringwatch.org
The climate engineers have an endless array of weather scenarios to create havoc, destruction, and death. Completely engineered protracted droughts are one form of climate engineering assault as we currently see in California, Brazil, the Caribbean, the Philippines, Australia, Africa, Russia, and other regions around the globe. Deluge and flooding are also a weapons of the climate engineers. But there is another form of weather warfare that is less recognized and understood (even by many that are aware of the geoengineering issue), chemically ice nucleated winter storms. Though many think engineering snow storms is impossible, it is, in fact, a primary tool of the climate engineers. The Chinese openly announced their engineered snow storms until they did over a billion dollars worth of damage to Beijing. On October 4th, 2013, a completely freak "winter storm" killed nearly 100,000 cattle in South Dakota. This event was truly astounding given the very warm temperatures that surrounded South Dakota at the time. I took screen shots of the temperature maps at the time and penned an article of the event. Take a good look at the maps below, the scenario they show is shocking. Cattle are very cold tolerant animals, how could they possibly freeze to death at temperatures that were present on the October 4th event of 2013? There were far above freezing temperatures in South Dakota at the time, why was it snowing at all? There were temperatures of 85 degrees and rain in Chicago, what really killed the South Dakota cattle?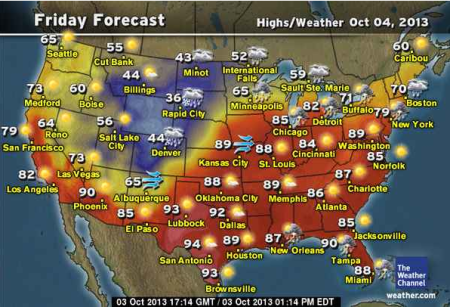 Spraying chemical and biological ice nucleating elements has allowed the climate engineers to radically (although temporarily) cool down large regions. We saw this throughout the 2014-2015 winter in places like the eastern US and Boston. In doing so, the desired headlines are created which then fuel division and confusion in regard to public opinion on the actual state of the climate. South Dakota is not the only place where engineered winter assaults are occurring. In 2011, some 200,000 alpacas were sickened and/or killed by an unusual cool-down. In 2013, 250,000 alpacas met the same fate. Now again, in 2015, the same scenario is playing out in Peru, nearly 200,000 alpacas have succumbed to extremely unusual conditions. Alpacas are built for cold, why are they dying in such massive numbers in a world that is experiencing record warmth?
June 2015 was the warmest June ever recorded, following May 2015, also a record warm month. The start to 2015 is the warmest ever recorded even surpassing the start to 2014, the warmest year ever recorded. Why would we imagine so many unprecedented die-off events to be natural given the knowledge that the climate is being completely manipulated around the globe? When we know that artificial snow storms are real and even being reported on by organizations like FOX news? When we also know there are patents for creating artificial snow storms which then generate a completely unnatural "snow" composition? Chemically nucleated snow is sticky, typically heavy, and unusually cold to the touch due to the endothermic reaction from the chemical nucleation process. The climate engineers leave nothing untouched, nothing untainted. There is no natural weather, there is only the results of the highly toxic and completely out of control climate engineering insanity. Get active, help to sound the alarm on the geoengineering assault.
DW