Climate Science Is Built On A Foundation Of Lies And Omissions

Dane Wigington
geoengineeringwatch.org
Most would interpret the title of this article to mean that the planet is not warming as rapidly as we are being told, but the reality is this, planet Earth undergoing unprecedented and catastrophic warming. The 6 minute video at the bottom of this article is extremely revealing and alarming, but even the information in this video falls far short of conveying the true gravity and immediacy of what we collectively face. The "worst case" projections by "official government agencies" is for a 3 degree Celsius rise in temperatures by the end of the century, but such projections and modeling assume global geoengineering will work. This fact is astounding when all "official" agencies completely deny that geoengineering is even going on. All available data already makes clear the fact that the ongoing climate engineering programs are a total disaster. Climate intervention is making an already bad situation far worse, not better. In addition, "feedback loops" in the climate system like methane release are radically worsening an already dire climate scenario. Methane and its horrific effect on the greenhouse gas buildup are not even considered in IPCC climate models, how is this possible? What are the "scientists" being paid to hide? Methane is over 100 times more potent a greenhouse gas than Co2 over a 20 year time horizon. Because land and ocean temperatures are going up so rapidly, formerly frozen methane deposits are thawing and releasing. This factor is already pushing atmospheric methane levels off the charts.
Methane is already rapidly building up in the atmosphere as the chart above clearly shows, but what are the temperature projections as the formerly frozen methane continues to thaw and release? The chart below should be alarming to all, it is the temperature rise projection for the Arctic, the rest of the world will not be far behind.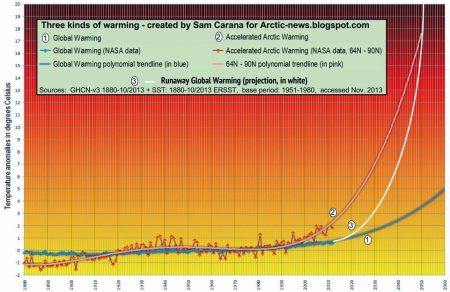 The climate science community as a whole has radically underreported the severity of what we face. As conditions continue to unfold on the ground, the true degree of damage done to our planet and its life support systems will become impossible to deny. The total inadequacy of current climate modeling is clearly revealed in the six minute video below. Though climate engineering is not admitted to in this video, the data it contains is still valid.
DW