Is HAARP Causing Quakes in Oklahoma?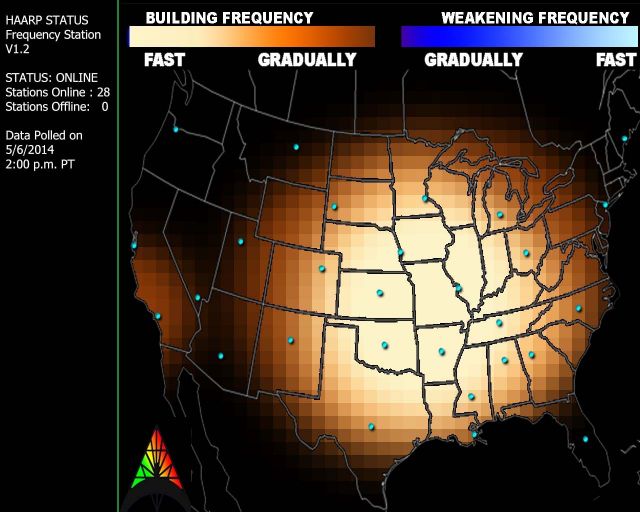 (HaarpStatusNetwork.com) – Oklahoma has issued an Earthquake Warning for a strong earthquake to hit the area soon under the fact that many smaller  earthquakes have hit there this year already at an alarming rate.  Is HAARP To blame?
The network has discovered that Oklahoma has gone under the red alert over 6 times this year.  Each time it did, an increase in quake activity was noted.  This is telling that earthquakes may actually be on the increase due to a backfire in the HAARP activity.
When HAARP fires over an area, it goes from the air to the ground.  The side-effects of this process goes deep into the Earth, affecting deep down fault-zones.  Is Oklahoma going to have a major quake soon?  Current readings on the network say it is heating up again.
Wavelengths – Shortwaves indicate near events, a high short spike usually means a short term major event is about to happen in that area. Longwaves and steady increases usually mean a large scale change is developing in the area that will effect a large area's upper level jet stream.
M1 – M2 – Slight change is expected, but overall the weather pattern is not being affected.
M3 – M5 – Change is expected and the reading indicates between then and and a few days it will happen. This is considered a moderate reading, which if a short spike can be a nearby event such as severe weather, unexpected lightning, or a tornado.
M6 – M9 – Significant change is expected. Anything over M7 is rare and special attention must be directed when readings go seven and higher. Severe storms are associated with this reading and so are Earthquakes, which if a short spike can be a nearby event and a long duration and slow build being a large scale change.
M10 – Associated with tornado outbreaks. This also can be strong hurricanes and blizzards.
Source: Before It's News