Health Magazine Covers Climate Engineering: "Heavy Metal Contamination And Mass Extinction – What's The Connection?"

As the global climate system continues to unravel at an ever more rapid pace, the effort to sound the alarm is also gaining ground. Health Freedom News magazine has yet again shown the courage to face the climate engineering insanity head on. I wish to express my most sincere gratitude to the personnel and management of Health Freedom News for continuing to cover the critical issue of global geoengineering. The editors of this first rate publication have shown a constant commitment to priority issues and to their readers, HFN has previously published a feature article on geoengineering. The magazine article below can be read by clicking the individual images to enlarge them or by clicking the PDF file icon of the full magazine issue at the bottom. All of us matter in the fight to wake the sleeping masses, make your voice heard.
Dane Wigington
geoengineeringwatch.org
Heavy Metal Contamination And Mass Extinction – What's The Connection?

Source: Health Freedom News
Click on images to enlarge them for reading the article. If you wish to make the image even clearer, you can click the image a second time once it has completely enlarged from the first click.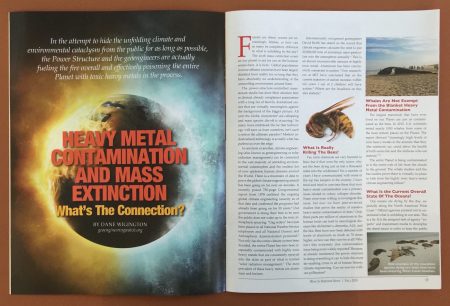 If you wish to view this whole issue of Health Freedom News (Fall 2015, volume 33, No.3) click the icon below for a full PDF version of the magazine