Geoengineered Forest Fire Incineration, Dark Ice, And Methane Extinction

Dane Wigington
geoengineeringwatch.org
Record forest fires are raging around the globe, climate engineering is a primary factor fueling the planetary burning. All over the northern hemisphere boreal forests are going up in flames and smoke, further loading the atmosphere with Co2 and soot. This in turn triggers multiple climate feedback loops which causes much more rapid warming than what is already occuring.
White Cloud Helibase on the Tahoe National Forest. Murphy Fire on AEU CalFire unit. Photo credit: Chester Helitack
Siberian forests have been burning at a record pace in recent years. In April of 2015 the process began again. Regions in Siberia that have historically remained frozen until mid June were fully ablaze by early April.
The satellite image above shows clearly that by late April, 2015, the Siberian landscape was riddled with fires.
Alaska is also being scorched after a record warm winter and record low snowfall. While the US mainstream media kept the public distracted with the "Boston snow" story during the 2014-2015 winter, Alaska was warm, dry, and setting up for the coming summer burning.
The map above reveals a staggering number of wildfires in Alaska even as summer was just beginning.
In Canada the situation is no different as astoundingly high levels of once pristine forests continue to be turned into scorched earth.
In early July there were more than 418 wildfires actively burning in Canada. By that date in 2015 there had already been more than 4,500 fires that had charred more than 2,150,000 hectares of forest. This was twice the number of fires that there were at this time last year when just over 2,200 fires burned 515,732 hectares of forest.
In the incredibly parched state of California numerous out of control fires have consumed landscapes, decimated wildlife, and destroyed many homes located in rural woodland regions. The climate engineers have been so consistent at blocking precipitation from California that one must ask the question, is California just a climate sacrifice zone, or a target of engineered drought?
Flames from the Rocky Fire approach a house in Lower Lake, California. The fire, now contained, burned nearly 70,000 acres and destroyed 43 homes.
Click to enlarge
Satellite imagery shows smoke from fires in the Brazilian Amazon
Though record rains very recently pounded the state of Texas, now we are told of a recent phenomenon called
"flash drought" that is already afflicting the formerly flooded landscape
. Will Texas soon be on fire as well? As climate engineering continues to create historically unprecedented conditions and scenarios, the power structure paid meteorological community coins new terms to describe formerly unknown conditions. Such "labeling" from the "experts" gives the public the impression that the unique conditions they are witnessing are all just "natural variability" and not the result of geoengineering (which they continue to claim is only a proposal and not a reality).
A dust devil spins across a Texas Farm in late July. A stark contrast to the heavy rains of early summer, July produced very little precipitation with only a few brief showers. The Enterprise photo: Guiseppe Barranco
This image from the Greenland ice sheets is only one stark example of what is occurring across northern hemisphere ice deposits.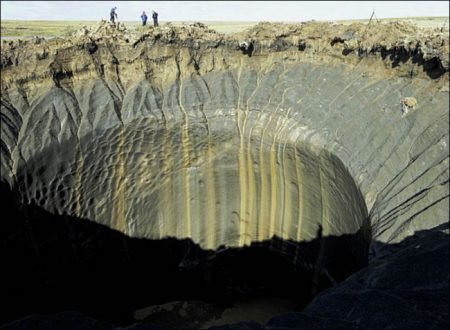 If the planetary warming continues unabated, and thawing methane deposits continue to fill our atmosphere, our fate will be sealed. Climate engineering is making the unfolding methane catastrophe scenario far worse overall, not better. All is connected, all is interlinked. The ongoing geoengineering programs are the epitome of human insanity. Climate engineering is nothing short of weather and biological warfare. If it is allowed to continue, the chain reaction of planetary catastrophes it is helping to fuel will be unstoppable (if it is not already). Climate engineering is not benevolent in any sense, it is about power and control. It is about hiding the severity of what is unfolding from the population for as long as possible (while making the overall climate collapse far worse in the process).
The consistently engineered cool-downs of the Eastern US
in a
record warm world
are an example of this (
July 2015 was just officially reported as the warmest month ever recorded on our planet
). All must unite in this battle to save life on Earth,
make your voice heard
.
DW