Geoengineering Watch Global Alert News, August 31, 2019, #212

Dane Wigington
GeoengineeringWatch.org
Hurricane Dorian is heading toward Florida, what will be the final outcome? More and more fires are breaking out all over the globe while other regions are experiencing record rain and hail. More and more headlines of completely unprecedented climate disasters are coming in from countless directions. Where exactly are we heading? The latest installment of Global Alert News is below.
If there is a silver lining to the unfolding biosphere collapse, it is that many are now starting to wake up and face reality. All of us are needed to help with the critical effort to sound the alarm. Share credible data from a credible source, make your voice heard, make every day count.
DW
Geoengineering Watch wishes to thank Ben, Dana, Helene, and Tom for hosting the Geoengineering informational booth at "Hardee's", Springfield, Illinois (8/31/19).
Geoengineering Watch wishes to express our most sincere gratitude to Maciej Kocialkowski for his tireless work toward raising awareness on the critical issue of climate engineering. The geoengineering awareness booth in the photos below was set up at the Charlotte County Administration Building in Port Charlotte, Florida (8/30/19).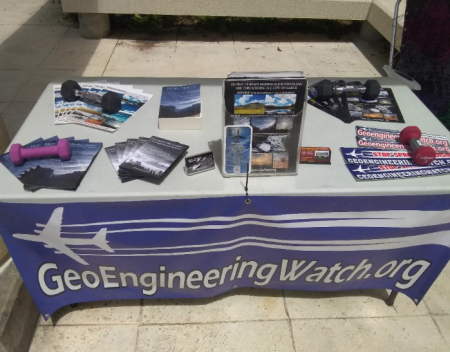 This week's GeoengineeringWatch.org outreach booth is at the Scottish Rite Event Center, San Diego, California, and is shown below. My most sincere and continuing gratitude to the Gem Faire exhibition organizers for facilitating and setting up this very effective booth in every week's Gem Faire location. The schedule for upcoming Gem Faire events is HERE. A geoengineeringwatch.org booth will be at all events, thanks to the steadfast support of Gem Faire.