Upcoming Northern California Climate Engineering Awareness Event

The event will be rescheduled, date to be announced, please watch for updates.
Latest update, The Shasta County climate engineering awareness event has now officially been CANCELED. The Holiday Inn, where the event was being staged, requires their ballroom to provide beds for firefighters. An update on rescheduling the event will be provided as soon as possible. To those who have already made the journey to Redding, we are planning an informal meeting in Redding on Saturday at 1pm. If you would like to join us, please contact us at admin@geoengineeringwatch.org
Important announcement, due to an out of control wildfire in Shasta County, Cal-Fire has taken over the Shasta County Fairgrounds for a command center. The location for the July 28th Geoengineering Watch event has been changed to the Holiday Inn, Redding, California. The Holiday Inn Convention Center seats up to 600, THE HOLIDAY INN LOCATION IS NOT AT RISK FROM FIRE). Again, the event is free as are materials at the event. All other event details remain the same, the doors will be open to the public at 3pm, the first presentation will begin at 5pm. There is a discounted rate on a limited number of rooms, if you want to reserve a room, mention GEW.
HOLIDAY INN REDDING
1900 Hilltop Dr
Redding, CA 96002
(530) 221-7500
On Saturday, July 28th, 2018, a critical public awareness event has been scheduled at the Holiday Inn, Redding, California. The event will be in the Holiday Inn Convention Center which seats up to 600. Verifiable evidence will be presented to the public on the ongoing global climate engineering / geoengineering programs that are wreaking havoc on the atmosphere, environment, and human health. This is a FREE public education event organized and funded by GeoengineeringWatch.org and GEM FAIRE Inc. There is no admission fee and free informational materials (including commercial DVDs and 20 page booklets) will be handed out at the event. Doors will open to the public at 3 p.m. on Saturday, July, 28th, the first presentation will begin at 5pm. Numerous experts include former state and federal government biologists, an EPA whistleblower, and a former commercial airline pilot. A very high ranking former US Military officer will also be attending the event to meet directly with the public. All experts will present data that conclusively proves ongoing climate engineering programs are:
Obscuring otherwise blue skies all over the globe
Contributing to global ecosystem and species die-off
Completely disrupting the hydrological cycle (rain cycle) all over the planet
Destroying the ozone layer which is causing off the chart levels of UV radiation
Contaminating our air, soils, and waters with highly toxic heavy metals
Causing extreme and unquantifiable environmental and human health impacts
Are being carried out illegally under the guise of "national security"
Geoengineered skies in Shasta County, California. Photo credit: Jovyde Wigington
For over 70 years those in power have waged covert weather warfare against unsuspecting and innocent populations all over the planet while also attempting to mask the true severity of unfolding and accelerating climate collapse (which climate engineering is making worse overall). The ongoing covert climate engineering programs are referred to under several primary scientific terms: solar radiation management (SRM), stratospheric aerosol geoenginering (SAG), and stratospheric aerosol injection (SAI). The destruction already inflicted to the biosphere and all life forms from the climate modification insanity is immense, beyond quantification, and is accelerating by the day. Earth's weather and life support systems have long since been completely derailed and disrupted by global climate intervention operations. The highly toxic heavy metal and chemical fallout from these covert programs has contaminated the entire surface of the planet and every breath we take.
Questions that will be addressed by the experts at the event are:
What is climate engineering / geoengineering / solar radiation management?
Why are these operations being carried out?
Who is behind these operations? Which counties and governments are involved?
What are the overall consequences of the ongoing climate engineering operations? To the biosphere and to us?
What are the geopolitical / global conflict ramifications as a direct result of climate engineering / weather warfare?
How can we expose and stop these lethal programs?
Experts in attendance will present PowerPoint data and statements of urgency addressing the dire climate engineering issue.
The schedule for the event is as follows:
---
From 5 p.m. to 6 p.m, Dane Wigington, lead researcher for GeoengineeringWatch.org will conduct a PowerPoint presentation, titled "Hacking The Planet: Climate Engineering And Climate Collapse". This presentation will provide up to the minute front-line data to highlight the dire impacts of the ongoing climate engineering operations and the threat climate engineering / geoengineering poses to our survival and to the entire web of life. The ongoing legal efforts to expose and stop geoengineering will also be covered along with specific suggestions as to how each of us can help to turn the tide. Dane is the lead researcher and administrator for GeoengineeringWatch.org, the largest and most visited climate engineering website / data archive in the world (over 30,000,000 visitors and counting). Covert global climate engineering programs are wreaking havoc with Earth's life support systems and human health (due to the highly toxic fallout from climate engineering). To view a former Northern California presentation by Dane Wigington, click HERE.
---
From 6:30 p.m. to 6:50 p.m., Former Federal EPA scientist, Michael Davis, will present his research and testimony regarding his attempt to bring the climate engineering contamination to light within the ranks of the EPA. He was subsequently fired from the EPA as a consequence of his efforts to tell the truth.
---
From 6:55 to 7:20, Former US military weather observer / former California Department of Fish and Game biologist, Allan Buckmann, will present research data to confirm the climate engineering reality and its impact on the environment.
---
From 7:25 to 7:45, Former commercial airline pilot, Jeff Nelson, will confirm the climate engineering reality and will share his perspectives on the issue as a former commercial airline pilot.
---
From 7:45 to 8:05, Former US Forest Service Biologist Francis Mangels will present research and testimony to confirm the climate engineering reality and its impact on the environment in Northern California.
---
Extended Question And Answer Session With The Experts
From 8:05 p.m. to 9:30 p.m., an extended public question and answer session will begin with all 5 event speakers participating on the panel of experts. The speakers will try to reply to all questions posed with quick and concise answers in order to provide the maximum amount of critically important information during this Q and A session.
A very high ranking former US Military officer will also be attending the event to meet directly with the public. For many reasons the identity of this individual will not be announced until the day of the event.
---
Meeting The Experts
9:30 pm: The Q and A discussion with the panel of experts will officially end, although those attending the event are welcomed to remain until 11p.m. in order to speak to any or all of the event speakers / experts personally.
---
This event is FREE
For those who wish to print event flyers to distribute, please click the PDF button to download.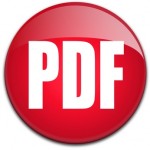 Our most sincere gratitude to GEM FAIRE Inc. for their help with making this event possible, and for their constant efforts to assist in the overall battle to expose and halt the ongoing climate engineering assault.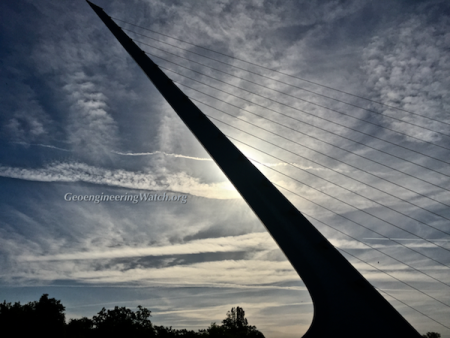 Geoengineered skies in Shasta County, California. Photo credit: Jovyde Wigington
Geoengineered skies in Shasta County, California. Photo credit: Jovyde Wigington
The planet's life support systems are unraveling by the day, this is not speculation, but verifiable front-line fact. Geoengineering Watch hopes that all those who are able to attend this free critical awareness and take action event, will do so. It is our collective efforts that can yet make a difference for the better. Hope to see you at the July 28th, 2018, event at the Holiday Inn, Redding, California.
Dane Wigington
GeoengineeringWatch.org