Revealing Data Confirms Geoengineering Is Stealing Rain From The Western US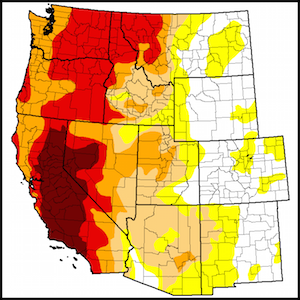 Dane Wigington
geoengineeringwatch.org
So many forecasts for rain in the US West no longer develop. In recent years this scenario has become the rule, not the exception. The stated purpose for "solar radiation management" (SRM) is to block the sun with light scattering particles and thus to create as much atmospheric haze or cloud cover as possible (no matter how toxic that cloud cover is). Excessive atmospheric particulates cause profound disruptions to precipitation. All too often in recent years, rain that should have fallen in the US West has consistently been blocked by two primary means, atmospheric aerosol saturation and the "ridiculously resilient ridge" of constant high pressure that has been consistently maintained over the US West. This scenario has been used to keep the Eastern US cooled down at the cost of catastrophic drought and heat in the West.
The engineering of the "polar vortex" cool-downs of the Eastern US was repeated again and again during the winter of 2014-2015
The eastern half of the North American continent has been the most anomalously cool zone in the entire world for almost three years. This is not due to natural variability, it is a direct result of climate engineering. Engineered snow storms are an ongoing reality and the Eastern US has been an epicenter of such weather assaults. The Chinese government openly admitted to engineering snowstorms until they did a billion dollars worth of damage to Beijing.
This GISS global surface temperature map reflects "departure from average high temperatures" for a two year period from 2013 to 2015. The extremely anomalous below average temperatures stand out with glaring clarity in the eastern half of rhe North American continent
When moisture is allowed to flow over the West, it is commonly scattered by the jet aircraft aerosol spraying assault. This spraying creates too many cloud condensation nuclei (CCN). When the quantities of CCN's are too high, moisture droplets cannot combine and fall as rain, thus the moisture just continues to migrate.
The images shown are the same, only different filters are used. The public is generally not shown any photos with enhanced infrared imaging as the clearly visible spraying would likely create great concern with the population which the power structure is trying desperately to avoid.
Geoengineering is causing catastrophic drought and fire activity. How consistently and aggressively have the climate engineers suppressed desperately needed precipitation from the US West? How much of the moisture that should have fallen in the West was blocked by engineered high pressure domes and/or migrated over the West to the East by constant and extensive aerosol spraying? The must see 1 minute video animation below clearly illustrates with shocking clarity the effects of the scenarios just described.
Video credit: Grace Raver/ NASA's Scientific Visualization Studio
How catastrophic are the drought conditions in the Western US? The drought monitor map below shows conditions that are already unprecedented and getting worse by the day.
The current drought in California is unprecedented in at least the last 1200 years
The climate engineering crimes can only be carried out in plain site because of the total cooperation of the so called "experts" that the public relies on to tell them the truth. Weathermen are now little more than paid liars who read the scripts they are given by their paymasters in the power structure. These "forecasters" are simply compensated to cover the tracks of the geoengineers. We are told that climate engineering is for the common good and the good of the planet, this could not be further from the truth. Not only is geoengineering completely disrupting the hydrological cycle, shredding the ozone layer, and completely contaminating the entire surface of the Earth, recent science studies confirm that global geoengineering "CAN'T WORK for the stated objective of an overall planetary cooling. Geoengineering is only making an already bad climate situation far worse overall, not better. Climate engineering is about power and control, period. Make your voice heard in the effort to reach a critical mass of public awareness regarding this most dire issue.
DW