Geoengineering Watch Global Alert News, June 18, 2016

Dane Wigington
geoengineeringwatch.org
The power structure is fracturing and losing ground on every front. This includes the medical/industrial complex that has been the source of immeasurable and irreparable suffering for far too long. Thanks to the film VAXXED, the lethal dangers of vaccinations are finally being exposed. A major VAXXED screening event is now scheduled for Northern California on August 5th that will include the VAXXED film producers, pediatricias, and climate engineering presentation from geoengineeringwatch.org (more details coming on this event). There is also a 1 week showing of VAXXED at the Valley 11 cinemas in Anderson California (near Redding) beginning on June 24th. On the wider front, May, 2016, broke yet another all time climate heat record. It was the 13th consecutive month of record breaking global temperatures. We are already descending into a runaway greenhouse event with climate engineering helping to fuel the overall fire. Record heat, record floods, record droughts, and unprecedented weather whiplash is now the norm. The Florida terrorist attack is playing perfectly into the hands of the power brokers and their corporate media weapons of mass distraction. With the biosphere implosion accelerating, corporations like Shell Oil use private mercenary armies to police their pillaging of countries like Nigeria.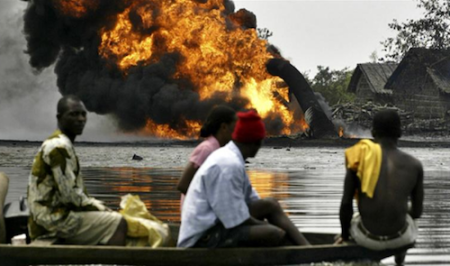 Shell Oil and other multinational corporations have plundered countries like Nigeria for decades.
All the while elements of our government do all they can to protect the military/carbon fuel/ industrial complex and to hide their crimes. The Australian government is doing all they can to hide the fact that much of the barrier reef just died in the geological blink of an eye. The Saudi dictatorship is helping to fund the Clinton presidential campaign, while using US made cluster bombs to kill innocent men, women and children in Yemen. We are told by FOX news that "ISIS may take over the world", but what countries are actually part of the overall ISIS support system? The USA, Turkey, and Israel are three. The latest installment of Global Alert News is below.
How can we remain sane and focused through the gathering storm? It is imperative for us all to examine our believes, our perspectives, and our philosophies. Solace lies in an unyielding commitment to the greater good, make your voice heard.
DW