Climate Engineering And Catastrophic Crop Failure

Dane Wigington
geoengineeringwatch.org
Planet Earth and it's life support systems have been severely damaged from countless forms of human activity. The greatest single source of damage on so many fronts is climate engineering. Agricultural collapse is not somewhere out on the horizon, it is here. According to reports just published, Mongolia has lost 80% of their crops due to unprecedented drought and harsh conditions, yes, that's 80%.
Struggling Mongolian farmer
The crisis in Mongolia is not at all unique as similar scenarios are unfolding around the globe. In Thailand drought has been so severe that the country's military is being used to keep farmers from any unauthorized pumping of the water they need to keep their crops alive as the last remaining irrigation canals continue to dry up.
Farmers stand by their water pumps at the Makhamtao Uthong irrigation canal in Praek Sriracha, Chainat province, on June 22, 2015
In Brazil the situation is no different. Agriculture is being hit hard by the unprecedented lack of precipitation as reservoirs are run dry and crops die off.
Another empty reservoir in San Paulo, Brazil
One of many orchards being removed from previously productive farmland in California's Sacramento Valley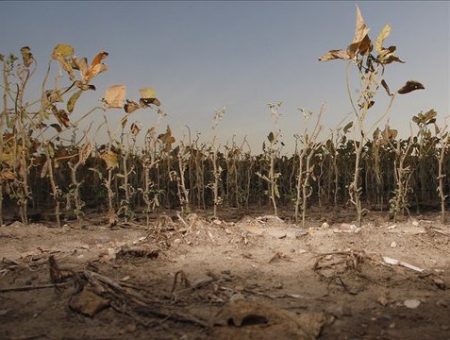 USDA declared Elmore County, Idaho a drought disaster zone
An extremely stressed canola field near Irma, Alberta. A record dry spring has decimated crops across Western Canada
A devastated farm field in Shandong Province, China
A swarm of locusts in Achikulak, Russia