You are now Breathing Ethylene Dibromide, Virally Mutated Molds, Nano-Particulates of Aluminum and Barium, and Polymer Fibers with Unidentified Bio-Active Material

This image showing a relatively pristine earth was taken during the Apollo Missions between 1969 and 1972. The earth floats like a beautiful blue and white jewel in space with no haze or luminosity covering it.
THE EARTH BEFORE THE ERA OF CHEMTRAILS
Compare it with the next few images of earth taken during the era of chemtrails. Shocking isn't it?
BLOOD TESTING REVEALS BARIUM 150 TIMES HIGHER THAN SAFE Do you have toxic levels of Barium and Aluminum in your blood? A number of people living in Arizona have discovered that they have blood levels of Aluminum or Barium 150 times higher than the amount considered safe. Many are experiencing the classic symptoms of Barium poisoning. Barium damages the immune system, causes dose-related muscle weakness up to total paralysis including the heart & lung muscles. Arizona, like the rest of the country has experienced heavy chemtrailing since 1997. So there is good reason to suspect there may be widespread problem with toxic levels of Barium & aluminum in the U.S. population, LIFE EXPECTANCY DROPS TO 69.3 YEARS IN THE USA HOW MUCH IS 8 YEARS OF YOUR LIFE WORTH? In 2003 life expectancy in the USA was 77.6 years. The drop to 69.3 years since 2003, a drop of over 8 years in less than 6 years, is startling information. This period of time just happens to coincide with a time when there has been non-stop spraying of chemtrails coast to coast on an almost daily basis. There is plenty of scientific research proving that any increase in airborne particulates causes a corresponding increase in the death rate of the exposed population so imo the chemtrails are a glaringly obvious factor in this significant drop in expected life span. WIDESPREAD CHEMTRAIL SICKNESS IN IDAHO; SEDATIVES FOUND IN CHEMTRAILS THE IDAHO OBSERVER According to a report published 8/28/06 in The Idaho Observer recent lab reports found the following in samples of chemtrail fall-out: bacteria including anthrax and pneumonia, 9 chemicals including acetylcholine chloride, 26 heavy metals including arsenic, lead, barium, mercury and uranium, 4 molds and fungi, 7 viruses, 2 cancers, 2 vaccines and 2 sedatives. PATIENTS HIGHLY CONTAMINATED, DOC BLAMES CHEMTRAILS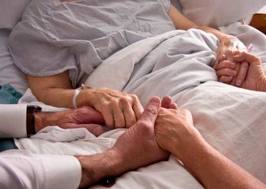 An Arizona Doctor speaks out after finding high levels of Barium contamination in his patients: "… patients are coming in with frequent headaches, sinus congestion, asthma and ear infections… I attribute this to the chemicals which our government is spraying in OUR air! … the "hair analysis" labs which I run on some of my patients are all indicating HIGH levels of Barium. My own hair analysis indicated high Barium levels… high levels of barium in our hair means either barium is being stored from digestion or the hair is being contaminated by an outside source[barium from chemtrails]. I am quite concerned with this violation of our environment by a government that denies it is occurring… One only has to step outside and look up at the sky to see our tax dollars at work" CHEMTRAIL POLYMERS LINKED TO MORGELLONS?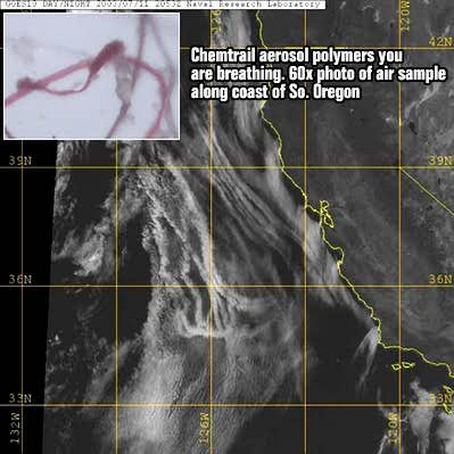 Chemtrail aerosol fibers enlarged 60X above
"Polymer chemist Dr. R. Michael Castle has studied atmospheric polymers for years. He has found that some of them contain bioactive materials, which can cause "serious skin lesions and diseases when absorbed into the skin." He has identified microscopic polymers comprised of genetically-engineered fungal forms mutated with viruses. He says that trillions of fusarium (fungus)/virus mutated spores), which secrete a powerful mico-toxin, are part of the air we breathe."
MORGELLONS/NANO-TECHNOLOGY DISEASE IN HUMANS NIGHTMARE NANO-TECH INFECTION Jan Smith has been suffering from Morgellons/Nanotechnology disease for over 10 years now. Her impressive research and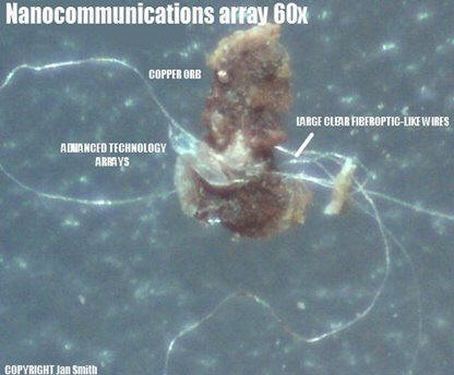 documentation has put her in the forefront of those working to unravel the mysteries of this horrifying new disease. The research and documentation presented at the link below is a must read. Please pass this information on to your doctors, congressional representatives and the media. Before It's News <—Source