Confronting Climate Shift And The Geoengineering Dilemma

by William Thomas, contributing writer for geoengineeringwatch.org
Blame it on our Pleistocene wanderlust. When vast multitudes of latter-day hominids could finally hitch their two-million year-old nomadic genes to a hundred horses at the turn of a key – we did. "Happy Motoring" and cheap flights to Mexico transformed our lives. And the planet each of us depends on and so briefly inhabits. It now appears we've rubbed that magic oil lamp way too vigorously. The jinn has escaped and is two ways pissed: Drunk on petroleum overdose. Enraged at being uncaged.
Click on Arctic News and Robert Scribbler's updates. If you dare. While the world's most feared rogue terrorist state murders millions chasing its paranoid projections into someone else's oil patch…
and drillers lick their incisors over an ice-free Arctic Ocean…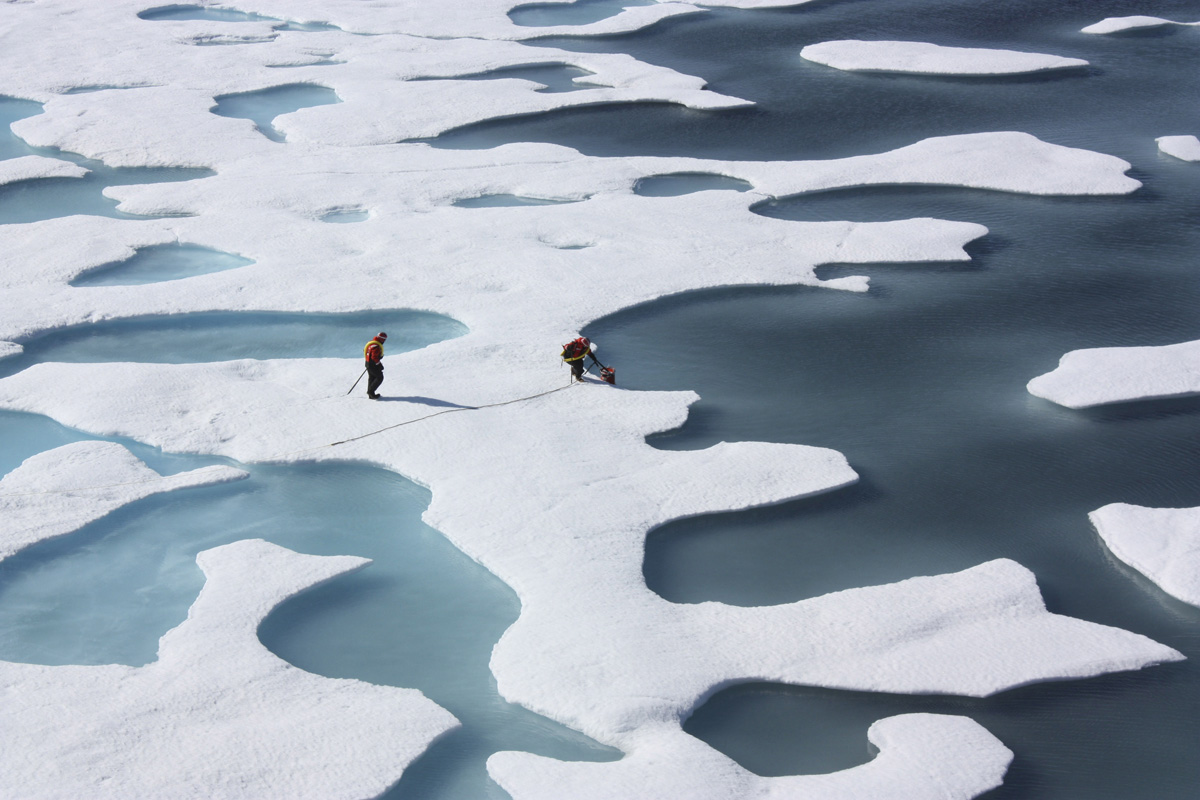 and those pesky frackers race to poison our space colony's last dwindling aquifers in a suicidal attempt to postpone petroleum withdrawal…
the weather, if anyone bothers to look up from their screens, is going nuts everywhere. We North American apex predators can, at least for now, reach for car doors and thermostats, sunscreen and parkas.
But crops and critters can't.
Temperatures over the dramatically shrinking Arctic ice sheet now exceed 20° Fabove seasonal norms, despite the deep vast rolling ocean absorbing over 90% of our carbon excretions. Today, the carbon-saturated salt sea covering most of this planet is becoming too hot and too acidic to support "keystone" life forms. These include coral reef nurseries, all shellfish, and the surface-dwelling plankton that supply most of our solar orbiter's oxygen, while anchoring the entire marine food web.
Can you say, Oops?
RAPING PLANET EARTH
Meanwhile, we have trashed natural habitats ashore and warmed the ocean of air we swim through, fracturing the weather-bearing jetstream, intensifying storms, blow-torching the Arctic, and helping kill off more than half of all animal species in the last 40 years. You could say the situation onboard our shared "Goldilocks" planet is somewhere far north of dire.
But that would be a knee-slapping understatement.
If so many simultaneous emergencies were flashing alarms aboard Starship Enterprise, Captain Kirk would be having conniptions. But hey, we're cool with it. Only a few worrywarts are pointing to all that once-frozen methane bubbling up from the poles. (Remember what happened last time!)
Turns out that over the initial 20 years of release, methane is at least 105-times more heat-trapping than the CO2 emissions already propelling us deeper into Earth's Sixth Great Extinction.
Mix in industrial farming's massive Nitrogen Oxide outgassing, and 93,000 commercial flights-a-day spewing the same 300-times carbon equivalent NOx directly into the upper atmos-fear (where jet exhaust also further erodes Earth's unravelling ozone shield) and you have the precursors for Abrupt Climate Shift – sudden as a shotgun blast following a centuries-long trigger pull. (Don't forget to add all those military flights: more than 5,000 every day over the USA alone.)
Already, we're seeing climatic consequences in our own communities.
SOMEBODY CALL SOMEBODY
So why doesn't someone do something already?
They are. All those years of hooting laughter over something a few called "chemtrails" have segued into scientific hysteria calling for Teller's sunscreen. But this aerial vandalism has been ongoing unannounced for decades. If you want to see your putative leaders' most dangerous delusion and deception… just look up.
How in Creation's 8.7 million divine names can we pretend to play at something as complex and dimly understood as "climate management" when we cannot manage ourselves? Provoke petroleum-powered climate instability with all these aerosol laydowns and atmospheric anarchy results. (Interesting how geoengineered drought and deluge reveal the fascistic corporate-governments hijacking the global commons below.)
BIG SURPRISES
All those weather baselines so patiently recorded over more than a century of careful observations are toast. Ocean sailors returning from Pacific voyages are telling me their Pilot Charts showing predominant winds since the time of square-rigged sailing routes are useless and worse, wildly deceptive. With formerly "average" winds, precipitation and temperatures spiking crazily, "Normal" weather is a fading memory our beleaguered children will never know.
No wonder the boffins with their elaborate computer models are constantly "surprised" over the speed and reach of climate chaos. Thanks to a handful of mad scientists and crisply saluting aircrews, it's become impossible to separate "natural" from "geoengineered" weather.
Deliberate tampering with increasingly chaotic atmospheric processes has thoroughly muddled meteorology. Attempts to explain what's happening to weather today, let alone forecast future trends, will continue playing catch-up until all those moisture-robbing, ice nucleating, sunlight-reflecting chemicals being spread across our skies are factored into otherwise fatally flawed algorithms. And stopped!
Good luck sorting this tangle out.
ADVENTURE TRAVEL
If these brief observations seem like empty words on a page, just bicycle out to California and experience what's going down in North America's fruit, veggie and almond basket. (Bring your own water.) Or paddle your kayak to India and Africa and ask where the monsoons went. Snorkel over drowning Pacific Island nations. Or climb the Himalayas. Crops will fail and Asia's billions will go thirsty when four great watercourses slow to a trickle. But at least you won't be needing crampons after the last high snows disappear.
Or just freak out at home when you turn the tap and nothing comes out.
Meanwhile, the two joined-at-the-hip governments perpetuating most of this carbon-and-chemtrail mayhem continue to act as if ongoing mass extinction is not a problem at all. Everything's good, they reassure us.
Until it isn't.
Choosing to step up aerosol assaults is like an addict blindly flailing away at a planetary piñata.
Can you say, Geoengineering Is A Really Bad Idea?
Can you say it loudly enough to ground all those tanker jets? And finally release rain over California?
Speak up now!
Or prepare for the worst.