Geoengineering Watch Global Alert News, December 21, 2019, #228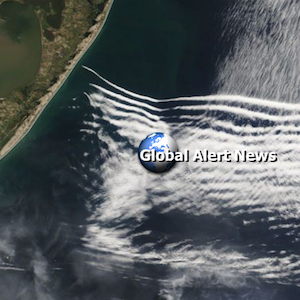 Dane Wigington
GeoengineeringWatch.org
Weather and politics are increasingly the themes of the day. Which subject poses the greatest challenge to us all? From mass methane release to acidifying seas and the planetary contamination of microplastics, how many dire issues are mainstream media sources hiding from the population? Industrialized civilization has strip mined countless terrestrial regions, our oceans are now the target for what will be the largest and most destructive mining operations of all. How much longer can the planet sustain the damage being carried out against it? The latest installment of Global Alert News is below.
Though the challenges looming on our collective horizon are immense and many, climate engineering is the greatest and most immediate challenge we face short of nuclear cataclysm.
When was the first time you noticed the change in our skies? This shocking half minute video reveals blatant climate engineering operations in the Northwest region of the Netherlands. Video footage credit: John G.
Collectively we can yet make a difference for the better. Reaching a critical mass of awareness in the population is the only path toward altering our current course of certain near term demise. Share credible data from a credible source, make your voice heard.
DW
This photo was taken at Nature's Market in Kent, Washington. Geoengineering Watch wishes to express our gratitude to the owners of Nature's Market, and to Larry and Kathy Burns for their help with encouraging this outreach effort.
This week's GeoengineeringWatch.org outreach booth is at the Scottish Rite Event Center, San Diego, California, and is shown below. My most sincere and continuing gratitude to the Gem Faire exhibition organizers for facilitating and setting up this very effective booth in every week's Gem Faire location. The schedule for upcoming Gem Faire events is HERE. A geoengineeringwatch.org booth will be at all events, thanks to the steadfast support of Gem Faire.