The "Forum For Climate Engineering Assessment" Interviews Dane Wigington From GeoengineeringWatch.org

Dane Wigington
GeoengineeringWatch.org
Official institutions are still attempting to mask the ongoing climate engineering atrocities by parroting the "official narrative" of denial. The "Forum For Climate Engineering Assessement" recently contacted GeoengineeringWatch.org and requested an interview with me. The fact that institutional organizations feel they need to engage in such interviews is a clear sign that our combined efforts are gaining ground in the battle to reach a critical mass of awarenes. Some excerpts from their mission statement are below:
Mission Statement

The Forum for Climate Engineering Assessment's (FCEA) overarching objective is to assess the social, ethical, political, and legal implications of emerging technologies that fall under the broad rubric of climate engineering (sometimes referred to as "climate geoengineering"). We produce high-quality and policy-relevant research and commentary, and work in a variety of ways ensure that the climate engineering conversation maintains a focus on issues of justice, equity, agency, and inclusion.

Scope of Work

Facilitation of climate engineering research in the academic sector.

Our work in this context includes: ongoing development of a timeline that chronicles the history of climate geoengineering and provides access to critical source materials; an occasional paper series; and development of a range of other materials for teaching and research on the social and political implications of climate engineering.
The 18 minute interview I did for this "Climate Engineering Assessment" group is below (full audio and full transcript). Whatever the overal agenda was behind this interview was (perhaps to try and marginalize those that are completely committed to exposing the climate engineering assault), the interviewer, Holly Buck, was cordial and professional. This being said, Ms. Buck has made her position on geoengineering clear. Though she claims climate engineering is only a "proposal", she advocates for all the "benifits" of deploying climate engineering/SRM programs. Publically denying existing climate engineering is likely a mandatory position for any in academia who wish to preserve their paychecks and pensions. Does this excuse the denial of academia? Absolutely not. There are volumes of verifiable facts, documents, and film footage which confirm the ongoing climate engineering reality. Unfortunately, academia (as a whole) refuses to honestly speak out about the ongoing geoengineering insanity. The recent illegal federal gag order on all NWS and NOAA employees is certainly one of the reasons why. Whatever the hurdles to speaking out, academia's betrayal of the public trust must be brought to light. The only way forward in the battle to expose and halt the ongoing weather warfare assault is to reach a critical mass of awareness with global populations, this effort will take all of us. Again, whatever the agenda of the interviewing institution may have been, the fact that they carried out this interview at all will help us carry the message to the halls of academia.
DW
An Interview with Dane Wigington of Geoengineering Watch

By Holly Buck
Recently, I talked with Dane Wigington of geoengineeringwatch.org.
This site often features at the top of Google results for informational searches such as "geoengineering", "geoengineering definition", "examples of geoengineering", etc.
You can listen to the interview or read the transcript below.
Note to listeners: I do not share Dane's view that there is an ongoing deployment of solar radiation management.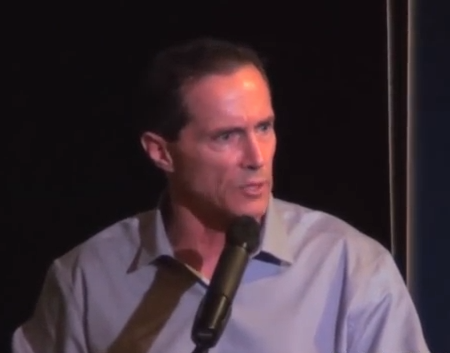 Dane Wigington of Geoengineering Watch
Holly: I was hoping we could start out by hearing a bit more about your site.
Dane: Our site, geoengineeringwatch.org, is simply a informational repository. We are nonpolitical. We don't sell anything. We are simply trying to put data forward to the public so they can examine information on the geoengineering, climate engineering, solar radiation management, stratospheric aerosol injection subjects; and come to their own conclusions.
Holly: Can you tell us more about the scope of your site — who uses it, and how they find it?
Dane: Well, we have about 20,000 visitors a day and we're over 25 million total visitors. Any search engine, if you search the word "geoengineering", we are typically at the top of that list. Sometimes ahead of Wikipedia, so we are not hard to find. Again, we stick to the science terms and the science issues and data to back that up, so again, not hard to find if someone searches the subject of "geoengineering".
Holly: Given that international readership, do you have a "typical" reader? Do you have return readers? Or is mostly people from all around the world who are just searching for information about this?
Dane: Well in Google Analytics, we can search fairly accurately as to who's getting on, and we have broad, expansive demographics, if you will. Everyone from military organizations, agencies, general public and everything in between. So we've had very high numbers of agency people on the site as well. In fact, when we published the 60 day notice of pending legal action from our legal alliance to stop geoengineering legal team, within 3 hours, I heard from Marcia McNutt. I think you know who she is, perhaps. National Academy of Sciences. So, she apparently had looked within three hours of us posting. So there's a wide range of people looking at this data.
Holly: I would like to back up a little bit and hear your views on climate change. I was reading one of your articles recently, where you talked about runaway global warming, and my understanding is that you believe that people are doing geoengineering to either stop or cover up the runaway warming. Is that a correct reading?
Dane: I think all available science data backs up that conclusion. I mean, I think you're studying the issue of solar radiation management, and that is the purpose of the proposal of those programs, which again, we would argue the data indicates its long since been deployed.
The problem … there are some in the anti-climate engineering movement that have not accepted the fact that the planet is in full-blown meltdown. I gave global warming lectures before I focused everything on the climate engineering issue. But I don't think we can argue logically, any of us, that the planet's … what would be mathematically, statistically in a runaway greenhouse effect right now.
And we're seeing statistically, an under-reporting of official high temperatures. Not an over-reporting as many people would like to convince themselves of, but we're seeing an under-reporting. That means it's even hotter than what we're officially being told. And we are seeing significant under-reporting. Two, three, four, five degrees; so how hot is it really, if we looked at accurate data? And I would argue the data is being falsified. But in the opposite direction of what, unfortunately, many people choose to think. They think it's being over-reported. It's being radically under-reported.
The planet, I would argue, is much further into the warming curve than we are being told. And climate engineering is the last ditch effort to try to mask that fact from the public as long as possible.
Holly: There's been a lot of talk lately in the media about so-called "fake news". Some even say we are in a post-truth era. And I'm curious how you approach the topic of fake news, I mean, people must send you articles all the time. You're a writer yourself, so how do you decide what's real and what's fake?
Dane: It needs to be verifiable. Period. And if we have, let's look at the subject of climate engineering and the fact that all available data indicates it's long since been deployed.
Our legal team; again, The Legal Alliance to Stop Geoengineering, surveyed fifteen hundred climate scientists and meteorologists. Fifteen hundred. We published the full list of the contacts, every individual, so the authenticity of this could be verified. Not one, of fifteen hundred climate scientists surveyed — and your listeners can look this up on our site — not one was willing to deny on the record that climate engineering, solar radiation management, stratospheric aerosol injection, had already been deployed. Not one.
When we post articles, for example, 750 page congressional documents, historical presidential reports, all referring to global ongoing weather/climate modification operations, we let the listener or the reader decide for themselves. Those documents are real, verifiable, available on government archives. The data is there. People have to make up their own minds if they choose to accept that data or not. But the data is there and verifiable.
Holly: I'm curious if you could tell us a little bit about how you got into this topic.
Dane: Yes. It's not a job I wanted. I'm non-political, I've never been an activist. I have a background with Bechtel Power Corporation, a very corrupt corporation that I left at an early age because of issues I was not comfortable with.
My home was on the cover of the world's largest renewable energy magazine. I'm completely off grid with wind, hydro, and solar power. When I began to lose massive amounts of my solar PV uptake. My photovoltaic power uptake from whatever these aircraft were emitting, not a single natural cloud formation in the sky. Only the lingering, spreading emissions from these aircraft. Losing sixty, seventy, eighty, ninety percent on some days, of my solar power uptake. Unimaginable losses. Something was clearly wrong. This was not condensation.
And as I began to research and found mountains of data on geoengineering, solar radiation management. Researched the primary elements listed in those patents. We have about 160 patents posted at geoengineeringwatch.org. The primary element being aluminum. I began to do precipitation tests, processed at the state certified lab. Found an initial baseline test of 7 ppb aluminum, 7 parts per billion. And I further investigated with a hydrogeologist that stated, given my filtered forested location, that amount was very high. It should be less than 1 ppb. Subsequent tests over the next year, in a single rain event, went as high as 3450 ppb of aluminum. Unimaginably high levels of aluminum and barium. Primary elements in climate engineering patents.
And after finding these government documents, presidential documents, patents, film footage up close, which we have posted at geoengineeringwatch.org. Of aircraft KC-10s, C-17s, KC-135s. Up close footage of them dispersing materials at altitude.
Geoengineered skies, Clarksville, Tennessee. Photo credit: Brandy Glick​
Global dimming is at 20 to 30 percent, you may know that. Every single dot connects. And the mountain of materials coming down on us, for example, in California, CARB, California Air Resources Board, has done studies on the materials migrating from China. From coal-fired power plants and so forth. Aluminum not amongst those materials. Nor barium.
Where was it coming from, when elements have escalated that high in that short of time? No other plausible source. I was simply forced to face the fact that these programs were in fact deployed and raining an unimaginable amount of toxicity down, destroying the ozone layer, the list goes on and on. And so, I was simply forced to either turn away or face this issue. And I couldn't turn away.
Holly: If I recall, a few years ago, some of your work was more about chemtrails. Now it seems it has more of an emphasis on geoengineering, and I'm just wondering if you could talk a little about the evolution there, about the relationship between the two concepts.
Dane: Can you cite any of my work that uses that term?
Holly: No, I'm not talking about now. I'm talking about maybe three to five years ago.
Dane: So am I. I mean, if you can cite any of my work other than to make the point that geoengineering refers to the layman's term of chemtrails as no scientific basis whatsoever. And I had adamantly always adhered to the science terms. Thus the name of our site, which has always been the name geoengineeringwatch.org. So I would just ask not to be confused with other groups that are using that term. I don't use it. And adamantly and tenaciously adhere to the climate science terms on this issue.
Holly: Okay. I know you said you're nonpolitical, but I'm curious if you have any thoughts on what the recent election and the new administration means for geoengineering programs.
Dane: I think it remains to be seen. Certainly we know the new administration is sending out incredibly alarming signals with their appointees and their apparent denial of what is really undeniable. That the climate is changing radically. That anthropogenic causes are creating the damage. We're putting 100 million tons of CO2 in the atmosphere a day. We're lopping down the forest, we're poisoning the oceans. I mean, I can't truly fathom that anyone could not understand that that would radically disrupt the energy balance of the planet.
You know the military has always known this and we know that right now your listeners can research this. We have the US military stating on the record, the greatest national security threat of all is the disintegrating climate. So, I would argue, why would we think that the military would ask our permission before they would engage in climate engineering when we know, historically, they have been engaging in weather warfare for many, many decades. We know this. Project Popeye in Vietnam. The rain seeding over the Ho Chi Minh Trail. Project Storm Fury, on and on.
So, for the Trump administration to, apparently, at least at this point, deny the climate emergency which we face right now is certainly extremely alarming. That being said, I'm working directly with a retired Air Force Major General. Retired Army Major General. Both of whom are communicating with the Trump administration about climate engineering. Because they want these programs stopped as well. Our only goal is to expose these programs and to bring them to the light of day. And that's hard to do when you have, Holly, I'm not sure if you know this, are you aware that there is a federal gag order on all National Weather Service and all NOAA employees?
Holly: No, I hadn't heard that.
Dane: Your listeners might want to examine that. And that should certainly send up a big red flag for them. I first was notified of that from PEER, Public Employees for Environmental Responsibility. Who works directly with NWS and NOAA employees. I got a no return address, no identity, but I got a copy of the legal action. And there is in fact a federal gag order on all National Weather Service and all NOAA employees right now. We have to ask ourselves, what are they trying to hide?
Holly: I'm curious, in the course of your work, what kinds of people do you meet?
Dane: Well, we're dealing with a lot of people right now. In fact, the former CEO of the world's largest environmental and engineering consulting firm communicates with us on our attorney conference calls. Because he also, is very aware of these programs.
The former MP, Canadian MP for British Columbia, I communicate directly with him. In fact, he was just, he's aware of these programs as well. He's endorsed a book that we're about a week away from releasing. And, again, the purpose of that book is simply to disclose the programs and give data to back up that disclosure.
We have also, at geoengineeringwatch.org, visual proof of climate engineering in the form of NASA satellite images and people who would search this on our site and look at these images, you don't need to know anything about meteorology. If you look at these images, you will be absolutely shocked at what you see. Not just the aerosol operations, but the interaction with radio frequency signals that are used to manipulate the particulates.
I simply would ask people to look at the visual data and if you don't believe what you see with your own eyes, there's not much else I could say. But the attempt to engineer our way out of this without reducing carbon emissions, reducing deforestation, reducing ocean contamination. That's simply a fool's errand. It's an extremely counter productive life. Holly, you remember the chemical Corexit that was used in the Gulf of Mexico to mask the severity of the oil spill …
Holly: Yeah.
Dane: Do you remember that?
Holly: Actually, I do.
Dane: I would argue that climate engineering is in that category. Corexit in the Gulf of Mexico, according to environmental impact studies, made that situation 52 times more toxic. But they used it anyway. To hide the problem. Not to make it better, to hide it.
And that's, in fact, what we see now. The UV levels, we're seeing from climate engineering, for example, I'm working directly with a 40 year former NASA aeronautics engineer. Forty year veteran. With expensive UV metering equipment that we supplied him. He's seeing … we're seeing UVB 1000 percent higher than we're being told. It's burning the bark off of trees. The cambium layer. We have [inaudible 00:14:47] huge study of whales with massive UV burns on them. We're seeing UVC now on the surface. Five percent of incoming UV is now UVC, that's the last band of UV before x-ray.
Your listeners can search — geoengineering destroys the ozone layer. There's no question in the scientific community that will be the result. But, that is the result. For those that aren't willing to admit for reasons I just cited, there's federal gag orders and so forth, these programs are ongoing. We see yet another confirmation they are ongoing by the massive ozone destruction, the massive UV levels, also not being officially disclosed.
Holly: I'm wondering if you could tell us, what's your goal or strategy? What do you and other concerned people plan to do about geoengineering?
Dane: Well, I would argue that the interference with Earth's natural processes is highly destructive overall. Much like a pharmaceutical with the human body. How many pharmaceutical ads do we see now that say take this for this particular ailment and by the way, here's twenty side effects that are unimaginably worse than what the quote cure is claimed to mitigate.
I would argue that we need to have disclosure on these programs. And when we have the environmental and the green community, for example, justifiably fighting to save forests and to preserve ecosystems through the world. If we have an element in the equation that is so horrifically destructive and not being admitted to, can we really have a legitimate discussion about the environment or the climate unless this issue is disclosed?
And that issue is climate engineering, when we have the world's most recognized climate engineers, like Dr. David Keith stating on the record his goal, their goal to put 20 million tons of aluminum nano particulates into the atmosphere annually. And not even having studied the toxicological effects.
And that is a fact, that's on film. If your listeners search "Dane Wigington/David Keith", they can see me confronting Dr. Keith at an international geoengineering conference where he admits that they have done no study whatsoever on the toxicological environmental effect. So, I would simply argue this, this is the goal of our study; to have full disclosure of this issue. Because we can't really have any legitimate discussion about the climate or the state of the environment without acknowledging and considering this massive unacknowledged factor of climate engineering.
Holly: Well, I think we'd better wrap up there. But thanks for sharing your perspectives. I appreciate your time.
Dane: Only asking people to investigate. That's our only goal. We don't ask anybody to believe anything we state, we're simply asking them to investigate the data. So thank you for allowing us to do that.
Holly J. Buck biography excerpt:
Faculty Fellow
Holly Jean Buck is a Doctoral candidate in the Department of Development Sociology at Cornell University, where she is also a Research Fellow at the Atkinson Center for a Sustainable Future.
Her work looks at climate change, energy system transformation, and human-environment interactions in the Anthropocene. As a NSF-IGERT fellow in Food Systems and Poverty Reduction in East Africa, she looked into potential socio-ecological impacts of large-scale land acquisitions for biofuels; currently, she is interested in the intersection of climate engineering with food systems and land use.
Academic Interests: Geographies of climate change, energy security, remote sensing with UAVs, appropriate technology and algal biofuels, marine bioprospecting, bioenergy with carbon capture and storage, open-source biotechnology, startup culture, Anthropocene pedagogy & writing, the sociology of expectations, future studies
Holly holds a M.Sc. in Human Ecology from Lund University in Sweden, and previously worked in the geospatial industry.