Critical Anti-Geoengineering Activism: Expanding The Effort

Dane Wigington
geoengineeringwatch.org
How can we wake people up to the ongoing global climate engineering assault when so many have been so completely conditioned to deny this most dire issue? Shocking and compelling visual images are the most effective approach. The one and a half minute video below contains undeniable film footage of a jet aircraft spray dispersion of aerosols into the atmosphere. Visual proof is the most powerful key to raising awareness. Sharing this kind of visual proof on social media networks is an effective method of sounding the alarm.
Waking someone up to something they don't want to hear about and don't want to know is an extremely difficult task, programmed denial is epidemic in our society. Simple straightforward visual tools are (in most cases) the best introduction method. In addition to the many compelling aircraft spraying videos that can be shared online, an effective informational flyer is almost always far more impactful than a verbal dissertation for face to face introductions to the climate engineering / weather warfare issue. "A picture is worth a thousand words" as the saying goes. In the last 4 years GeoengineeringWatch.org has printed and distributed well over 500,000 color glossy 2 sided flyers. A total of nearly 40,000 flyers have been circulated in Northern California's "Record Searchlight" newspaper (even though the "Record Searchlight" editorial staff itself has done all they can to deny the climate engineering reality). In late 2016 almost 42,000 GeoengineeringWatch.org flyers were distributed by the Sonoma County Press Democrat. Most recently, on April 28th, 2017, approximately 50,000 Geoengineering Watch flyers were circulated within the pages of the Sacramento Bee.
Our deepest gratitude to Corinne Spence for spearheading the flyer distribution in the Sacramento Bee with help from Deborah Whitman from "Environmental Voices"
GeoengineeringWatch.org informational flyers are also being translated into other languages. Thousands of flyers have already been printed in Polish and are being distributed. Our deepest gratitude to Maciej Kacialkowski for organizing the Polish flyer translation effort.
Click images to enlarge
Spanish translation flyers are also being put to use in Argentina thanks to the efforts of Ludovico Doebbeling and Pablo Alonso.
Printing effective informational flyers in quantity can be done much more inexpensively at a print shop instead of a copy store. Below are files for the free downloadable Geoengineering Watch flyers.
2-Sided Flyers
Click on the flyer below to download the high resolution PDF flyer file
Instructions for downloading: Simply right-click on each image below and choose "Save Link As…" (or the equivalent),
save it to your computer, find the file and open/print it.
Side 1
Side 2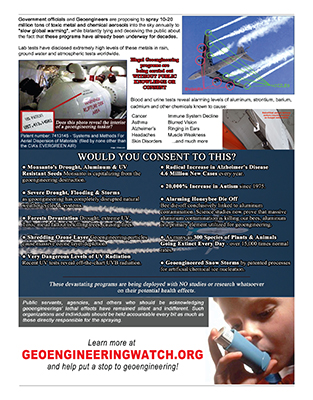 Effective activism efforts require preparation, planning, and informational materials. In addition to full sized informational flyers, business card sized handouts can also be extremely useful, are very inexpensive, and easy to carry.
Click on the business card below to download a high resolution PDF file that can be used for printing these effective informational cards
Business Card – Side 1
Business Card – Side 2
Rapidly worsening weather whiplash and converging climate catastrophes are finally forcing the planetary geoengineering issue out into the open. Now more than ever we must all continue to credibly and effectively sound the alarm. Climate engineering is the single greatest assault ever launched against the web of life by the human race. With the single exception of nuclear cataclysm, climate engineering is the greatest and most immediate threat we face for a long list of reasons. The battle to expose and halt the ongoing weather warfare insanity should logically be our top priority. Reaching a critical mass of climate engineering awareness in the population is absolutely essential in this fight. We all have a responsibility to learn how to be effective with our awareness raising efforts, arming yourself with effective informational materials is an essential step. Understanding the basic building block facts of the climate engineering issue is also critical. Make your voice heard in the critical battle to expose and halt the climate engineering insanity.
DW