Geoengineering Watch Global Alert News, March 17, 2018, #136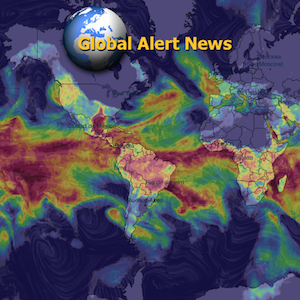 Dane Wigington
GeoengineeringWatch.org
Will the climate engineering terrorists hammer the US east coast with a 4th engineered winter weather event in a row? The 4th such event in just over 2 weeks? We are now being told that a new pathogen, "disease X", may soon decimate global populations. Will the global power brokers soon choose to unleash all out biological warfare against populations? As the biosphere implosion continues on course, so does the climate engineering denial within the ranks of academia. On Thursday, March 15th, I participated in 2 separate debates on the climate engineering reality (one scientist was from the University of Ottawa, the other scientist was from Cal-Tech). The videos of these debates will be posted on Geoengineering Watch soon.
A new report now asks the question, "should climate change be called murder"? Highly toxic and destructive climate engineering programs likely killed even more than climate change alone, and yet the ongoing geoengineering insanity is completely omitted from the mentioned report (and all others like it). What can we collectively do to force the truth to the full light of day? The latest installment of global alert news is below.
Decisions need to be made, priorities need to be set, effective action needs to be taken toward raising public awareness. We must all do our part to educate those around us to what is unfolding, sharing credible data is key. Each and every one of us must do what we can to wake others, all are needed in the front lines of the battle to wake the masses.
DW
This week's GeoengineeringWatch.org outreach booth is at the Reno-Sparks Livestock Events, Reno, Nevada, and is shown below. My most sincere and continuing gratitude to the Gem Faire exhibition organizers for facilitating and setting up this very effective booth in every week's Gem Faire location. The schedule for upcoming Gem Faire events is HERE. A geoengineeringwatch.org booth will be at all events, thanks to the steadfast support of Gem Faire.
Geoengineering Watch wishes to express our most sincere gratitude to Maciej Kocialkowski for his tireless work toward raising awareness on the critical issue of climate engineering. The geoengineering awareness booth in the photos below was recently set up in the Historical Train Depot​, Punta Gorda, Florida, 3/10/18. Maciej has also translated GeoengineeringWatch.org flyers into Polish and personally distributed them in his homeland of Poland. Click here to support halt climate engineering billboard by Maciej Kocialkowski. Other awareness raising efforts by Maciej are shown here: Anti-Geoengineering Activist Sets An Example For Raising Awareness
Our deepest thanks to Gail Goett and Jason Goett​ for spearheading the billboard effort in Long Lake, Alberta, Canada, shown below.