Geoengineering Watch Global Alert News, October 13, 2018, #166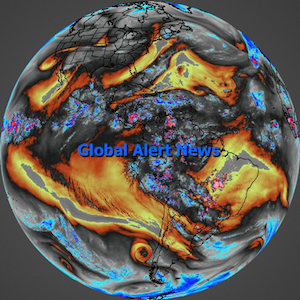 Dane Wigington
GeoengineeringWatch.org
How much of what we believe is actually nothing more than societal programming from the constant parade of propaganda? How many crimes and injustices does society accept because of being trained to never question the "experts"? Belief systems will not alter reality or the immense challenges that are closing in from every direction. The latest installment of Global Alert News is below.
Hurricane Michael is the latest manipulated hurricane to hit the US. Though much can be speculated on regarding the many agendas being carried out by the climate engineers, the fact that Hurricane Michael was steered is beyond debate. The less than one minute video below reveals Michael making landfall. The cyclone drifts in a direction in which the transmitters have been de-energized, and away from energized transmitters (easily visible on the video). The microwave transmissions have a repelling / dispersing effect on the low pressure circulation as it migrates through an ionized / seeded atmosphere (from climate engineering jet aircraft dispersions). This process is visible on the screen in the upper left of the video below which shows the path of Hurricane Florence. There is no longer any "natural" weather, none. All is tainted from the climate engineering / weather warfare insanity.
How can we maintain any sense of solace in a world gone mad? An unyielding resolve to make a difference for the better is a leap in the right direction. Each of us, all of us, are needed to take a stand for the greater good. This is most easily done by accepting what actually is and not what we wish was so. Waking others in our individual circles is imperative, sharing credible data is key. We must all make the most of every day.
DW
An important reminder of the upcoming climate engineering awareness event / forum in Northern California, October 20th, 2018, hope all who are able will attend. For more information click HERE: https://www.geoengineeringwatch.org/geoengineering-watch-event-october-20th-2018/​
This event is FREE
This week's GeoengineeringWatch.org outreach booth is at the OC Fair & Event Center, Costa Mesa, California, and is shown below. My most sincere and continuing gratitude to the Gem Faire exhibition organizers for facilitating and setting up this very effective booth in every week's Gem Faire location. The schedule for upcoming Gem Faire events is HERE. A geoengineeringwatch.org booth will be at all events, thanks to the steadfast support of Gem Faire.
Geoengineering Watch wishes to express our most sincere gratitude to Maciej Kocialkowski for his tireless work toward raising awareness on the critical issue of climate engineering in Bydgoszcz, Poland (10/7/18). Maciej has also translated GeoengineeringWatch.org flyers into Polish and personally distributed them in his homeland of Poland.
On Friday, October 12th, GeoengineeringWatch.org flyers for the upcoming October 20th event were circulated throughout Northern California in 5 separate newspapers. A total of over 17,600 event flyers were distributed. Below is a flyer from a copy of The Record Searchlight, one of the 5 newspapers.