Geoengineering Is Accelerating A Runaway Greenhouse Scenario

Science circles and governments all over the globe are pushing the narrative that "geoengineering could mitigate global warming". This narrative is so astoundingly false from so many directions, the fact such a dialog is even occurring is a true testimony to the willful (paid) blindness and insanity of the "science" community. There can be no rational denial of the fact that climate engineering programs are going on, this reality is inarguably verifiable for anyone that has bothered to look up. If any objective investigation of available data is carried out, there can be no rational denial of the fact that global climate engineering has been going on at a significant scale for at least 70 years. There is a mountain of data to prove this including 750 page senate documents. Geoengineering CAN'T mitigate what is likely already a runaway greenhouse effect, and eventually, Venus syndrome. The climate engineering insanity can only make an already critically bad climate scenario worse, and that is exactly what it is doing.
There is NO benevolence in the climate engineering assault, NONE. Geoengineering is ultimately about power and control, period. Short-term toxic chemical cool-downs are carried out at the cost of a far worsened overall warming, a shredded ozone layer, a completely derailed hydrological cycle, and completely contaminated planet. A final fact that is most astounding and perplexing, there are many who claim to be fighting against climate engineering which are actually parroting the preferred propaganda prepared by the power structure itself, that "global warming is a hoax" or even more ridiculous, that the "planet is cooling". The planet is not just warming, it is descending into total meltdown along with industrialized civilization. How hot is it? Even with daily high temperature readings being grossly UNDERREPORTED, former high temperature records are still being completely obliterated. Though the recent article below does not address the geoengineering elephant in the room, the data it does address is dire, but far short of how severe the state of the biosphere actually is.
Dane Wigington
geoengineeringwatch.org
We just broke the record for hottest year, nine straight times

Source: The Guardian, article by Dana Nuccitelli
Earth's record hottest 12 consecutive months were set in each month ending in September 2015 through May 2016
This image released by NASA's Earth Observatory Team from data collected by the Moderate Resolution Imaging Spectroradiometer (MODIS), an instrument on NASA's Terra and Aqua satellites, shows the land surface temperature as observed by MODIS in Asia between April 15 to April 23, 2016. Yellow shows the warmest temperatures. Photograph: AP
2014 and 2015 each set the record for hottest calendar year since we began measuring surface temperatures over 150 years ago, and 2016 is almost certain to break the record once again. It will be without precedent: the first time that we've seen three consecutive record-breaking hot years.
But it's just happenstance that the calendar year begins in January, and so it's also informative to compare all yearlong periods. In doing so, it becomes clear that we're living in astonishingly hot times.
June 2015 through May 2016 was the hottest 12-month period on record. That was also true of May 2015 through April 2016, and the 12 months ending in March 2016. In fact, it's true for every 12 months going all the way back to the period ending in September 2015, according to global surface temperature datacompiled by Kevin Cowtan and Robert Way. We just set the record for hottest year in each of the past 9 months.
Running 12-month average global surface temperature using data compiled by Kevin Cowtan and Robert Way. Illustration: Dana Nuccitelli
These record temperatures have been assisted by a very strong El Niño event, which brought warm water to the ocean surface, temporarily warming global surface temperatures. But today's temperatures are only record-setting because the El Niño was superimposed on top of human-caused global warming.
For comparison, 1997–1998 saw a very similar monster El Niño event. And similarly, the 12-month hottest temperature record was set in each month from October 1997 through August 1998. That was likewise a case of El Niño and global warming teaming up to shatter previous temperature records.
The difference is that while September 1997–August 1998 was the hottest 12-month period on record at the time; it's now in 60th place. It's been surpassed by yearlong periods in 2005, 2006, 2007, 2009, 2010, 2014, 2015, and 2016. Many of those years weren't even aided by El Niño events; unassisted global warming made them hotter than 1998.
Global surface temperatures are now more than 0.3°C hotter than they were in 1997–1998. That's a remarkable rise over just 18 years, in comparison to the 1°C the Earth's average surface temperatures have risen since the Industrial Revolution began.
This has all happened during a time when 'no significant warming in 18 years' has been one of the rallying cries of climate denial. In reality, when we compare apples to apples – El Niño years to El Niño years – we've seen more than 0.3°C global surface warming over the past 18 years, which is in line with climate model predictions. 'Climate models are wrong' has been another now-debunked climate denial rallying cry.
Now that the past year's El Niño event is over, the streak of record-breaking yearlong periods appears to have ended. Nevertheless, 2016 remains on track to break that record for the hottest calendar year, for an unprecedented third consecutive year, following record years in 2010 and 2005 as well.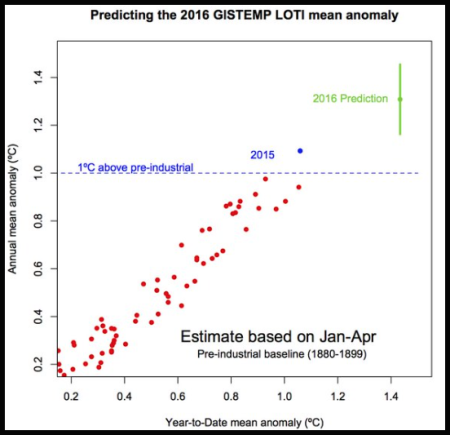 With Apr update, 2016 still > 99% likely to be a new record (assuming historical ytd/ann patterns valid).​
With the Earth warming dangerously rapidly, at a rate 20–50 times faster than the fastest rate of natural global warming, one can't help but wonder when the influence of the small minority of disproportionately powerful climate denial groups will wane.
195 countries pledged to curb their carbon pollution in the tremendously successful Paris climate negotiations, but climate denial is still predominant in one of America's two political parties, and may be gaining foothold in other regions of the Anglosphere like the UK and Australia. Fortunately, many other countries like China, India, and Canada seem to be moving in the right direction with their climate and energy policies.
Now that climate denial's bread and butter arguments are toast, November's US elections will be critical in determining whether the country continues along the path of climate leadership established by President Obama, or allows the oil industry's puppet party to continue peddling long-debunked myths in order to delay climate action and put future generations at risk.
With global warming constantly breaking temperature records, and dozens of scientific organizations warning policymakers that "To reduce the risk of the most severe impacts of climate change, greenhouse gas emissions must be substantially reduced," we can no longer use ignorance as an excuse.