Geoengineered Incineration Is Pushing The Planet Toward Venus Syndrome

Dane Wigington
geoengineeringwatch.org
Yet more forest land is being incinerated by raging, unprecedented, and completely out of control wildfires in the US West.
Flames from the "Butte fire" rise over a pasture in Mountain Ranch California on September 11th. Photo credit: RT TV
What will it take for the population to wake up and for "official agencies" and "scientists" start telling the truth about the ongoing "climate engineering"? Geoengineering and solar radiation management are sold as mitigation for global warming, but all available data makes clear the fact that these ongoing programs are making an already bad situation far worse, not better. Recent science studies solidly conclude geoengineering can't work for the stated objective of cooling the planet. Geoengineering is weather and biological warfare, nothing less. Climate engineering is ultimately about power and control, especially in regard to rapidly growing global populations.
Tanker 60, a DC-7, drops on the Lowell Fire. Photo credit: Matthew Rhodes
When will the cowardly denial of global geoengineering by "elected officials" (which is parroted by the entire climate science community) come to an end? When will the criminal denial of the climate science community and official agencies give way to the legal and moral obligations they have to inform the public about the climate engineering juggernaut of insanity?
Jet aircraft aerosol dispersion
Though countless forms of anthropogenic activity has decimated the planet, geoengineering is the single greatest contributing factor to the epic droughts and unprecedented fires which are occurring all over the planet. Geoengineering is the single greatest factor which is stealing precipitation from where it is needed most. This is not just the case in the US West, but is occurring on multiple continents. Geoengineering is the single largest factor causing crop failures around the world.
Shrinking Colorado River is a growing concern for Yuma farmers and millions of other water users. Photo credit: Irfan Khan/ LA Times
As the forests burn, and the crops fail, the dangerous buildup of greenhouse gases will continue to fuel the planet towards record heating, catastrophic sea level rise, and mass methane release. Climate engineering is making all these scenarios worse overall, not better. We are already on track for a scenario called Venus Syndrome. Under this scenario climate feedback loops (which fuel a runaway greenhouse event) heat the planet (once triggered) and continue to spiral out of control until the planet becomes a scorched lifeless orb comparable to Venus. 2014 was the warmest year ever recorded globally. 2015 is on track to shatter that record and 2016 will likely break the record yet again. If we remain on the current course near term total global extinction is not just a possibility but a mathematical certainty.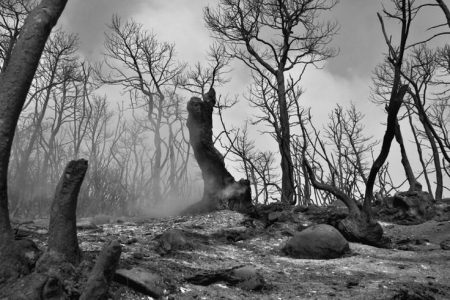 Record shattering fires of unprecedented intensity are scorching landscapes around the globe.
Though the cessation of climate engineering will trigger what is termed "double catastrophe scenario", this is the only way forward. The planet must be allowed to respond on it's own to the damage done without the hindrance of the ongoing highly toxic climate engineering insanity. Industrialized society has already decimated the planet beyond any chance of recovery to the formerly thriving biosphere we have known, geoengineering is the largest single factor in this destruction. Joining the effort to expose and halt climate engineering is a responsibility that we must all bear, make your voice heard. DW